3 Ideas for a Very Italian Christmas
Declan Etheridge, 2 years ago
5 min

read
604
>>The festive season is upon us and, with mere days to go, it's beginning to look a lot like Christmas. We have asked our chef Michelangelo to give us three ideas for a very Italian Christmas.
Michelangelo highlights the dos and don'ts of a truly Italian Natale and, most importantly, gives you fantastic ideas to make the most of the Christmas lunch leftovers.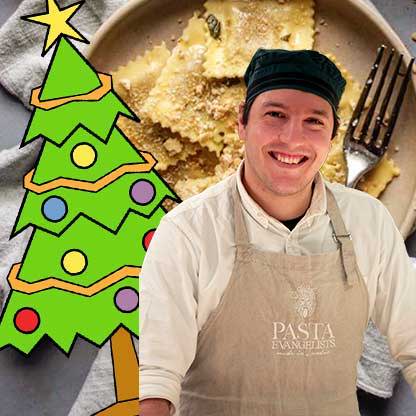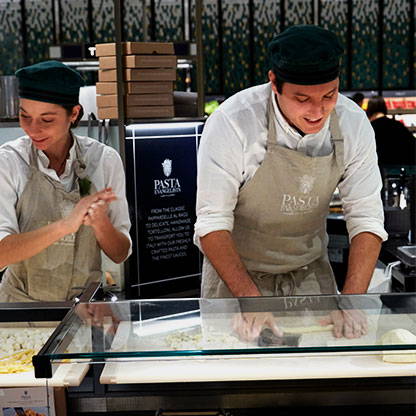 First & foremost, chi è Michelangelo?
Michelangelo is one of our Pasta Evangelists artisans, who makes beautiful, fresh pasta at our concession in the iconic Harrods Food Hall. His vast knowledge and creativity has helped us create brand new pasta dishes for you to enjoy on our weekly menu.
Most importantly, he's Italian, hailing from the beautiful region of Tuscany, and is kind enough to share his top three tips for an authentically Italian Christmastime.
Where does your flair for food & love of pasta come from?
"I've travelled all four corners of the world for work, living and learning the flavours of countries like Australia, New Zealand, the United States and Iceland, as well as the vast and diverse areas of South America. And of course, the journey started in Tuscany, my home."
Tell us about your home, Tuscany?
"My grandpa was Italian, from
Tuscany
, which, at least in my opinion, is where some of the very best Italian food comes from."
"Since I was 5 years old, I spent every Sunday cooking with my papà [dad] who taught me to love great food, cultivating an appreciation for beautiful, seasonal ingredients, from planting seeds and bulbs to slicing the fruits and vegetables the ground would give back to us."
Michelangelo's life revolves around food and his passion for Italian cuisine is palpable. We'll get to know a little more about him through the Pasta Evangelists blog over the coming weeks.
But, first, here are 3 ideas for a very Italian Christmas. From Michelangelo's kitchen to yours.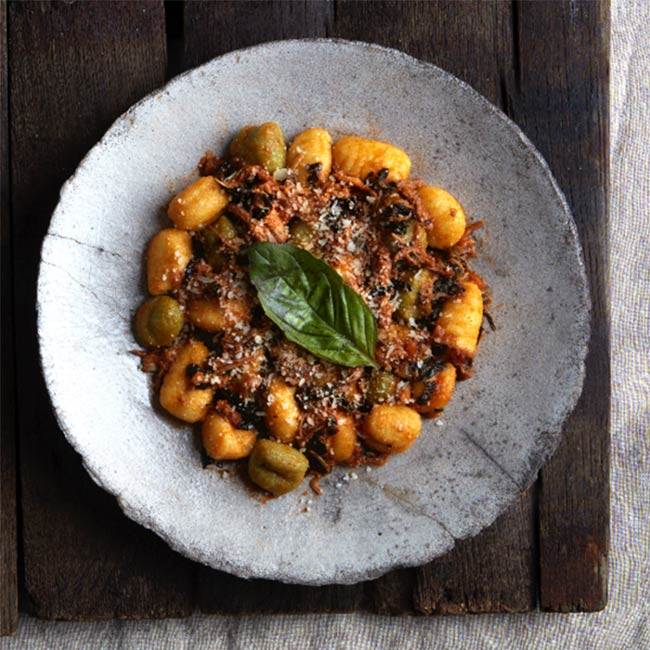 #1: Gnocchi with Lamb Ragù is a must-have during Natale…
It's rare to find sprawling turkeys or decadent, honey-glazed hams on Italian dining tables over the Christmas period. Instead, Michelangelo opts for a more modest, if equally indulgent, a portion of fresh gnocchi with lamb ragù.
Made by slow-cooking lamb shoulder with red onions and the best tomatoes you can find (the tinned Mutti variety, widely available in the UK, would be a good bet), this dish should be served up with a snow-like scattering of sumptuous Parmigiano cheese.
According to Michelangelo, if this dish doesn't make you feel warm, comforted and full of spirito Natalizio, he'll eat his apron.
But if you don't feel like dicing onions or slow-cooking lamb over the Christmas season, worry not: our menu frequently includes beautiful lamb ragù dishes, bringing you a taste of Natale Italiana without requiring you to lift a single finger.
Michelangelo's Dos:
Use your leftover Parmesan cheese from the back of the fridge. Its sharp, salty and tangy texture will make a welcome change from some of the richer, creamier cheeses typical of the British Christmas cheese board.
The moment the gnocchi float to the surface of the water, that's it – they're ready!
Michelangelo's Don'ts:
Don't overcook the gnocchi, or you'll end up with mashed potatoes and a lamb stew… delicious, perhaps, but not very Italian!
Under no circumstances should cream be added to the ragù – instead, slow-cook the lamb shoulder for hours and hours until it yields its rich, meaty flavour. In the Italian kitchen, the cream is seen as a distraction.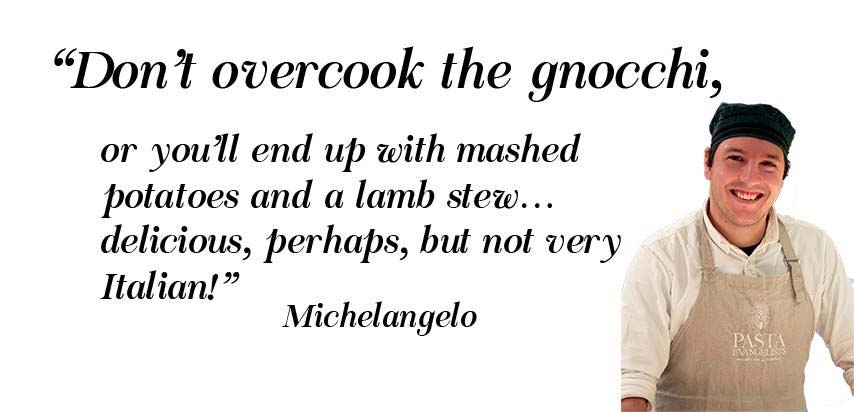 #2. Turn your leftover turkey into beautiful, hand-craftedravioli
If you, like most of the UK's 66 million inhabitants, find yourself with an unwelcome glut of turkey in the wake of your Christmas feasting, worry not: Michelangelo recommends trying your hand at making your very own ravioli.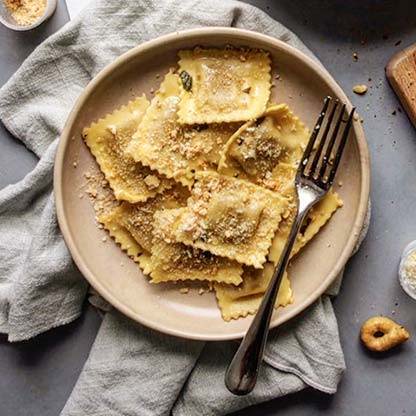 With our luxury pasta-making kits, complete with step-by-step instructions from Michelangelo and Livia, our second pasta chef, it couldn't be easier to make your ravioli from scratch.
What's more, Michelangelo promises that a little bit of post-Christmas creativity helps to enrich the new year ahead.
Michelangelo's Dos:
To make the filling for your homemade ravioli, grind the turkey to something similar to a paste, adding Parmesan cheese, Italian olive oil and un po ricotta cheese. A little bit of fresh, chopped parsley would be delicious, too.
Following the instructions from our pasta-making sets, make your ravioli from scratch Michelangelo promises it's a lot easier than it sounds.
Serve your hand-crafted ravioli in a light chicken broth. If you're buying this in – Michelangelo promises to turn his eye – we suggest investing in the best you can afford.
Michelangelo's Don'ts:
Per l'amor di Dio, do not recycle the cranberry sauce for the filling!
Don't be intimidated by making your own ravioli: with our fresh pasta tools and instructions, you'll be able to make your own in no time at all.
#3. Tired of trifle & Christmas cake? Viva il tiramisù!
We would never want to take anything away from the magic of Britain at Christmastime. With roaring log fires, beautiful hymns and, even the occasional mince pie, we Italians are willing converts.
After weeks of trifle, Christmas cake and other sweet treats, though, we do find ourselves longing for a different kind of dolce vita, and only the kind that can be found in il bel paese ("the beautiful country", Italia).
If you, like us, find yourself a little jaded after cinnamon, sultanas and marzipan galore, respite comes in the form of the classic Italian dessert tiramisù, which Michelangelo confesses to enjoying in abundance during Natale.
With its trademark caffè flavour and sumptuous mascarpone filling, this dessert promises to revitalise and comfort in equal measures.
A good soaking of fortified Marsala wine, from the (usually) sun-soaked Mediterranean island of Sicily, also gives tiramisù a bit of a kick, which – at least during Natale – Michelangelo gives his wholehearted approval to.
Michelangelo gives a simple recipe for his classic tiramisù below. Buon Natale… and more importantly, Buon Appetito!
</br>
</br>
Related posts
Pasta Evangelists
We deliver fresh, artisanal pasta dishes every week across the UK. Make 5* dishes at home in 5 minutes & discover the amazing tastes of authentic Italian pasta. We are the UK's top-rated pasta company. This is our blog.
Learn more
Subsrcibe
[mc4wp_form id="825"]
* You will receive the latest news and updates on your favorite celebrities!